Conference Center La Grande Motte
Palais des Congrès Jean Balladur
Avenue Jean Béne
34280 La Grande Motte
www.lagrandemotte-congres.com
(Free wifi in the Conference Center)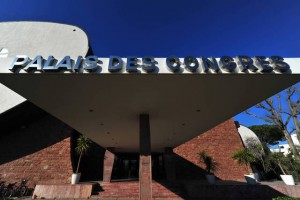 La Grande Motte is at the Gateway to la Camargue and Provence, 20 kilometres from Montpellier. It is the greenest seaside resort in Europe, listed as a 20th century heritage site by the Ministry of Culture and Communications.
The European Championship Soccer tournament (UEFA 2016) will be held across 10 French cities, for a month from June 10 to July 10.  Marseille and Nice are one of the selected cities. Thus we highly recommend you to book your hotel and transportation as soon as possible to avoid any disappointment.
Access
La Grande Motte by road
By Plane
By Rail
Daily services to and from all major cities, in particular the TGV high-speed train which arrives in Montpellier (Saint Roch Station).
From the railway station take the tramway (line n°1) to the station "Odysseum" where a regular coach (line n°106) provides a return shuttle service to and from La Grande Motte (45 minutes).
Montpellier TGV station is 21 km away  www.voyages-sncf.com.
Useful information
Opening/closing hours, public holidays, currency, areas codes for France, Emergency phone numbers, advice for a trouble-free stay…
Opening hours
Shops are usually open from 9 am to 7 pm from Monday to Saturday.
Department stores may stay open until 9 pm.
Banks are open from 8.30 to 12 noon and 2 to 4.30 pm, Monday to Friday, with some branches opening on Saturday mornings and during lunch time.
Money/currency
The Euro (€) is the official currency of France.
Credit cards are accepted in many shops, hotels and restaurants (there is usually a minimum amount of between 7 euros and 15 euros).
For cash, you will find ATMs on just about every street corner (24 hours a day). Bank branches, exchange bureaux and some post offices handle currency exchange transactions and traveller's cheques. Whatever you are buying, prices are net.
Emergency phone numbers
Dial the following numbers (toll-free)
SAMU (medical emergencies): 15
Police emergency: 17
Fire-brigade: 18
European emergency call: 112
Calling
To call France in France: 0 + area number + number
To call France from abroad: 00 + 33 + number
To call abroad: 00 + country exchange number + number
Electric standards
220 Volts – 380 Volts / 50 Hertz
Electricity supply is 220 volts throughout France with « European » 2-pin type wall sockets. For any European or other countries that utilise 240 volts e.g. UK and Ireland most electrical equipment will function adequately. If you intend to use the European electrical plugs then you will need an electricity plug adapter. In the US where the electricity supply is 110 volts a transformer is required to step up the voltage to 220 volts.
Insurance
We strongly recommend that you obtain adequate travel and health insurance prior to beginning your travels to France.
Passport and Visa information
An identity card is sufficient for participants from EU-member countries. All other participants need a passport valid for a determinate period (depending of the country they are coming from) to enter the European Union. Visas* may be also required for participants from some countries. For specific information, please contact the nearest French Embassy at least six weeks prior to your departure.
The letter of invitation for visa application will only be delivered after payment of the registration fee.
Useful links
A few tips for a pleasant trouble-free holiday
– You are strongly recommended to respect smoking/no smoking signs in public places.
– A service charge is included in the price of each item on the menu in any cafe or restaurant as required by French law. In theory, no further tipping is expected.
– If you are driving, park only where authorised and respect speed limits on highways and motorways. France extensively uses radars to detect speeding and take pictures of the cars. Police will send the ticket to the rental car company that will forward the bill to the delinquent driver. In such case, the bill is generaly very high.
---